New Garage Door
St. Augustine, Florida
This was a custom garage door install that we recently completed for a homeowner in St Augustine, FL.  For our residential customers, we offer a wide variety of options and choices to ensure we can provide the perfect garage door to suit their home as well as offer the least amount of maintenance with years of trouble free operation.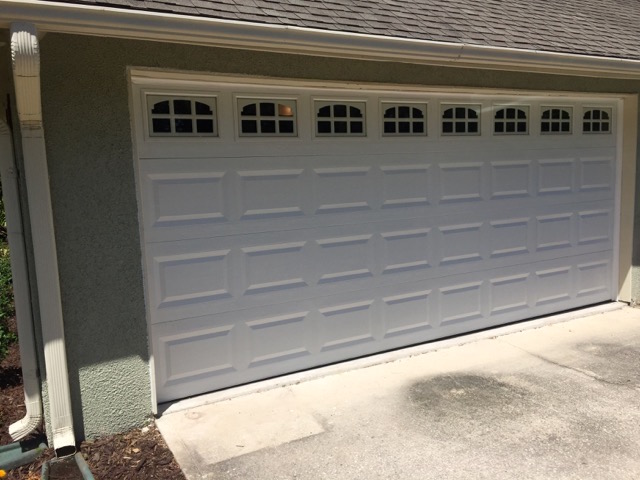 Wind Resistant Garage Doors
The client wanted a new garage door that was not only functional for their needs and fit with the style of their home, but one that could also withstand the winds associated with St. Augustine, FL coastal living.
In Florida, wind speed is always a consideration and all of the residential garage doors we stock and install meet or exceed the wind requirements put forth in Florida's building codes.
We stock and sell a variety of overhead doors from Americas top manufacturers, all with exceptional build quality and great warranties. After reviewing all of the options with our new clients, they decided to purchase a new Clopay 16x7 white garage door with a WindCode rating of 5 which can withstand sustained winds of up to 130 miles per hour.  Clopay is one of our preferred residential overhead door manufacturers as their doors meet or exceed Florida's wind requirements.  They also build exceptional garage doors and offer great warranties.
Custom Garage Door Options
To add additional curb appeal and also better fit the style of their home, the homeowners added the custom option of Charleston style top glass inserts.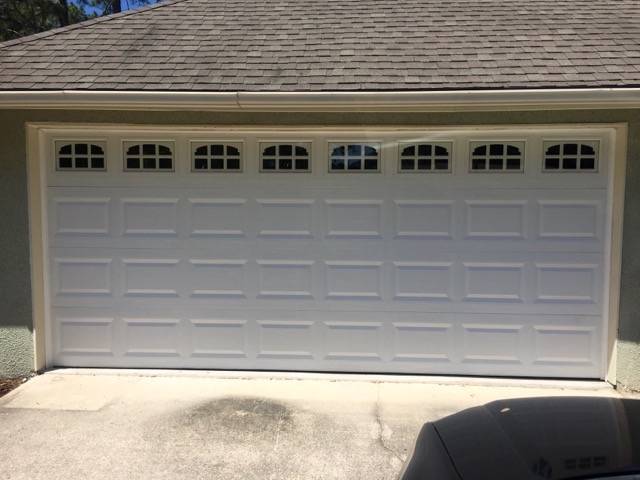 We strive to always provide our customers with the best service, finest products and will work closely with them to assist in helping them choose the perfect garage door to suit their needs and fit within their budget and lifestyle.
This is just one example of the many different types of new garage door installations we perform on a daily basis.  With a multitude of available options, we gladly offer our customers a wide variety of choices to ensure they're completely satisfied with the end result once installed.