New Garage Door Installation
Ormond Beach, Florida
A recent new garage door installation we completed was for a customer in the Ormond Beach, FL area whose home was located beach side.
Garage Doors and Salt Air
When choosing the right overhead door for a property that is situated on a beach front, one has to always take into account the need for a garage door that can withstand the changing climate and salt air, as well as fluctuating wind speeds and the potential for needing to withstand hurricane force winds.
Working together with our client to ensure they chose the right garage door to suit their home and its beach side location, we installed a new Clopay 18x6'9 triple layered steel on steel garage door.  A triple-layer garage door is one of the strongest, most secure, and soundproof residential garage doors available.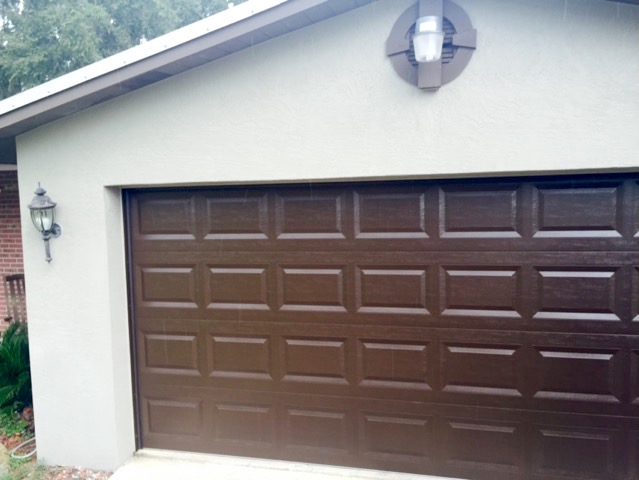 Wind Rated Garage Doors
As their property is directly on the coast in Ormond Beach, it was important to choose a garage door that was hurricane rated because of the potential for high winds.  Clopay offers wind rated doors that meet or exceed current Florida building codes.  For this Ormond Beach garage, the homeowner selected door with a Windcode rating of W6, which is rated to handle winds up to 140mph.
Automatic Garage Door Operators and Back-Up Power
The client also opeted to purchase a new LiftMaster 8500 belt drive garage door opener with an optional battery backup.  The Elite Series 8500 garage door is unique in its design as it mounts on the wall beside your garage door instead of on the ceiling.  The optional battery back-up is a great option here in Florida in the case of power outages due to weather.  The battery system provides up to 24 hours of power needed to open and close your garage door.