New Dual Garage Doors
Flagler Beach, Florida
Here's a  residential garage door installation consisting of a dual garage door setup that we recently completed for a client in the Flagler Beach, FL area.
As Flagler Beach is located on Florida's northeast coast, it's very important to choose a garage door system that can withstand the fluctuating wind speeds, extreme summer climate, salt air, and the potential for hurricane force winds.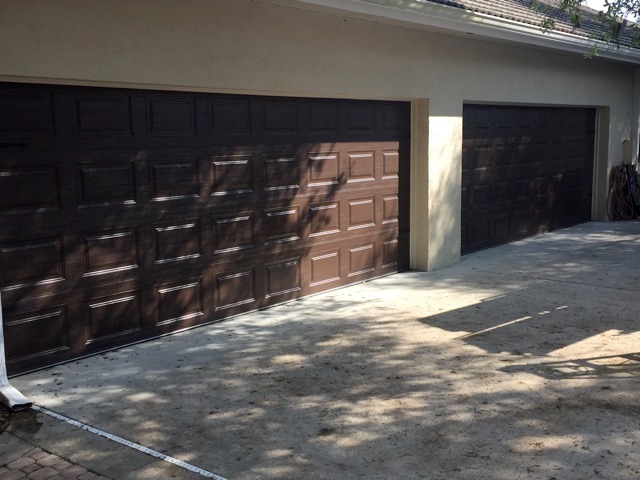 Wind-Rated Garage Doors
Clopay is one of our preferred garage door manufacturer for residential installations. They not only build one of the highest quality doors on the market, but also offer wind rated garage doors that meet or exceed current Florida building codes.  Each of the doors chosen for this installation were manufacterd to earn a Windcode rating of W6 for winds up to 140mph.
Garage Doors for Beach Location
After consulting with the customer, we decided to go with 2 Clopay 18x7 triple layered steel on steel garage doors that perfectly suit their needs as well as their home's coastal location.  These are excellent quality garage doors that will last years and years with very little if any maintenance required.  They are one of our most installed residential overhead doors.  A triple-layer garage door is also one of the strongest, most secure residential garage doors available on the market today.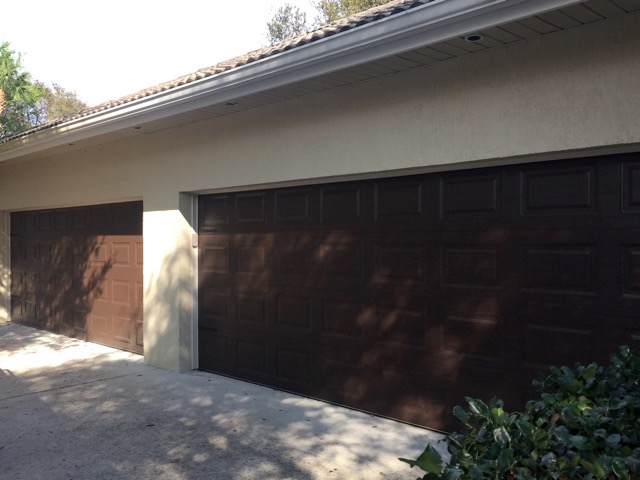 Automatic Garage Door Operators and Back-Up Power
For each of the garage doors in this home, we installed a LiftMaster 8500 belt drive garage door opener with the optional battery backup.  The Elite Series 8500 garage door is special in its design as it mounts on the wall beside your garage door vs. a traditional ceiling mounted opener.
An optional battery back-up can be a wise investment here in Florida, as we encounter frequent power outages due to weather.  The battery backup provides up to 24 hours of power needed to open or close your garage door.